Sightseeing boat
Introduction of sightseeing boat
Funaya was originally a boathouse for fishermen. The view of the boat houses from the top of the sea is different from the land. Please enjoy the daily life of the fisherman while being swayed by the waves slowly.
There are two types of cruise boats: sea taxis (small cruise ships) or Ine Bay tour boats (large cruise ships).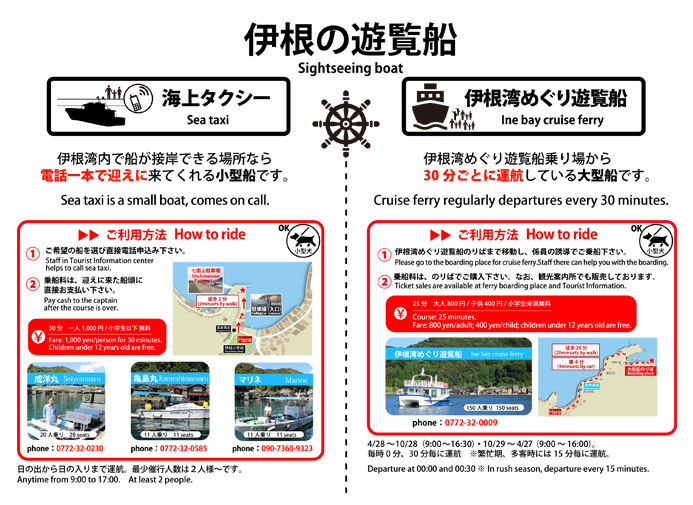 Sea taxi (recommended for small groups of up to 20 people)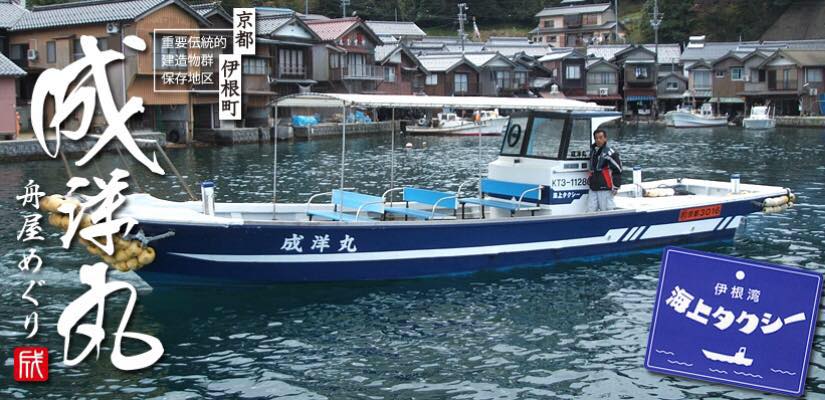 Local boatmen will take you around Ine Bay with a guide on their own boat.
If you call when you want to ride, it's OK!
Boarding location: Shichimensan Parking Lot (Address: 505-4 Hirata, Ine-cho, Yosa-gun, Kyoto Prefecture) (Google Maps)
Opening hours: 9:00 a.m. to 5:00 p.m.
Fee: Adult 1,000 yen (free for children)
Duration: 30 minutes
Parking fee: Free for the first 30 minutes, 100 yen per 30 minutes theren
Currently, the following three boats operate.
【Seiyomaru】
Capacity: 20 Captain: Kura Osamu
Tel:0772-32-0230
Homepage:https://www.facebook.com/ineseiyoumaru/
【Kameshima Maru】
Capacity: 12, Captain: Yamada
Tel:0772-32-0585
Homepage:http://kameshimamaru.server-shared.com/
【Marine】
Capacity: 11 people,
Captain: 090-7360-9323
Reservations: 090-1022-1252 Contact: Kura
Facebook:https://www.facebook.com/inemarineactivity/
Ine Bay sightseeing boat (recommended for group for more than 20 people)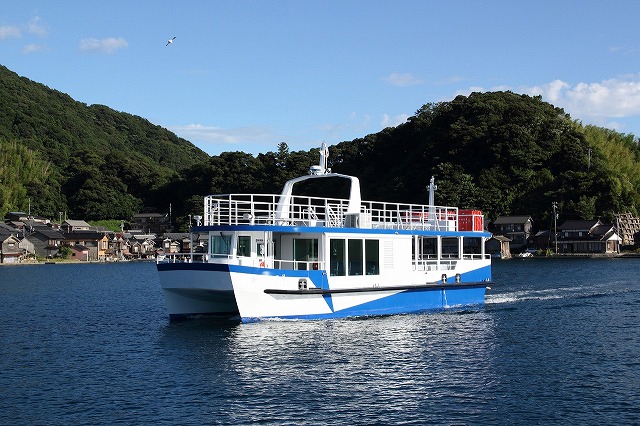 ・ Visit Ine Bay for about 25 minutes.
The fee is 800 yen for adults.
・ It is recommended for group customers because it is a large cruise ship that can accommodate up to 150 people
Boarding location: 11 Yone-cho, Yosa-gun, Kyoto (Google Maps)
Tel:0772-32-0009
Opening hours: 9:00 a.m. to 4:00 p.m. (departs at 00 and 30 minutes per hour)
Fee: Adult 800 yen Child 400 yen
Duration: 25 minutes
Parking fee: Free (private parking lot on the cruise boat)
Homepage:http://www.inewan.com/index.html