Stay at Funaya in Ine! It's great to relax while looking at the ocean view.
However, one problem is that, in fact, Funaya in Ine often stays without meals.
↓ List of inns only for plans
without meals or with breakfast ↓
Ine Umiyado Funaoto Funane
Funaya no Oyado Auura
Funaya no Yado Wako 
Funaya no Yado Taisei
Ine no Funaya Masa (Miyabi)
Ine Stay Tokiwa
Funaya Minshuku Shione
CAFE & BB guri
Funaya no Yado Maruichi
Funaya no Yado Shio no
Kaminjuku Higashiya
Ine Funaya Fuga
Funaya no Oyado Ameya
Ine Funaya Stay 
Kainagi Ine Kanja no Yado Yagi Ine Funaya Kamiya
So what should I do for dinner?
Although the number is small , you can use the two stores , " Wadatsumi * Closed on Wednesdays" and "Hyoshiro * Closed on Thursdays",
without reservation. However, once I check in, I don't want to leave the room.
It's cold in winter and I want to eat while relaxing in my room. .. ..
The catering service is recommended for such customers.
"Matsunami, a catered food specialty store"
 with a store in Amanohashidate
Quoted from the following homepage

Rest assured even if you place a sudden order

■ Matsunami hopes to create a store for customers, a good store for employees, and a store that
can continue to make good food.

■ Cooking is the best that can't be found anywhere else, and we aim to be a sincere dish that is sought after and
satisfied by our customers.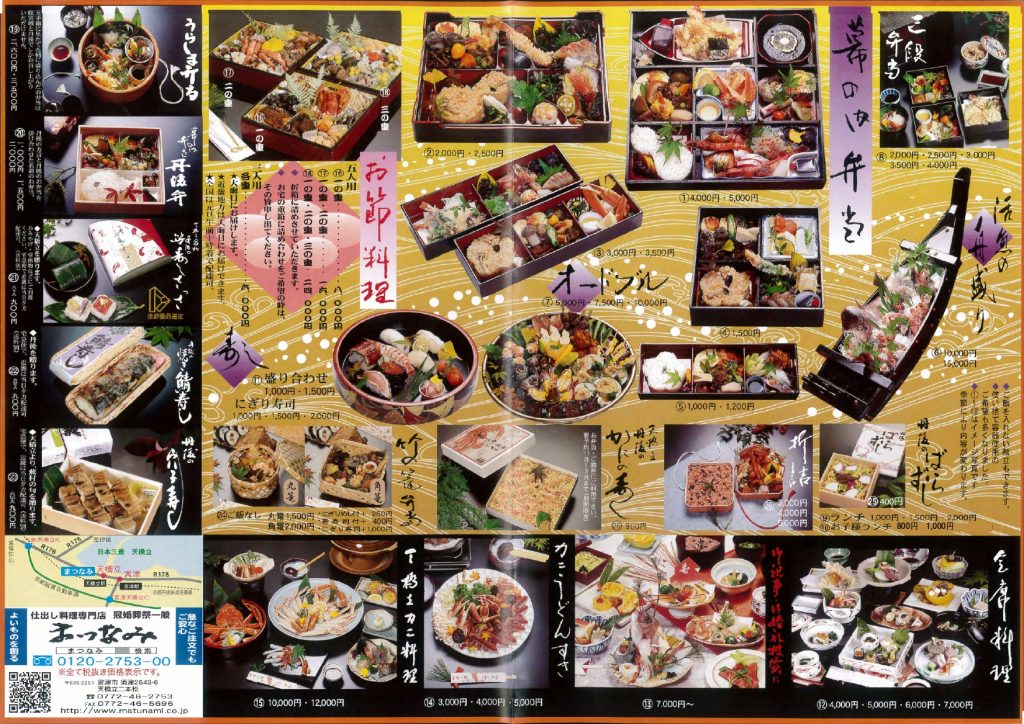 "Matsunami" is a caterer who delivers from Miyazu to Ine by car.
By the way, it takes about 40-50 minutes from Amanohashidate to Ine.
So there seems to be a minimum order price as well. The table is here ↓ Ine Town has orders of around 10,000 yen or more. Therefore, please note that it costs at least 5,000 yen per person when ordering with two people .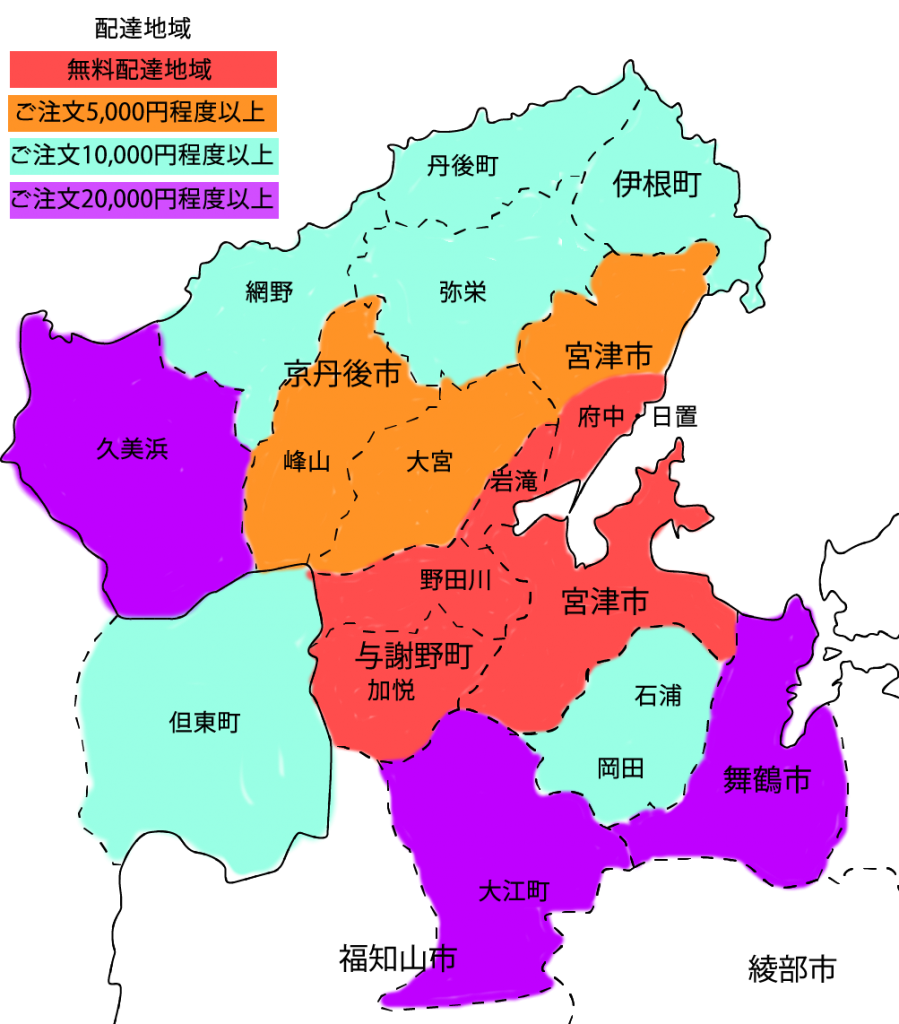 Still, if you want to eat slowly in your room, please use it.
Company Name: Matsunami Co., Ltd.
Address: 2643-6 Suzu, Miyazu City, Kyoto Prefecture 629-2251 Amanohashidate Nihonmatsu 
TEL: 0772-46-2753
FAX: 0772-46-5696