<New opening on Wednesday, July 15, 2020>
A new inn has opened at Funaya's inn in Ine! The place is in the back of Funaya in Ine.
This area has been called "Kanja" for a long time.
There is a lighthouse called "Kanjagahana's Red Lighthouse" just a short walk away, and it is recommended to sit there and relax.
There is 
no parking lot for tourists around here, and it is a dead-end road, so there is usually little traffic.
Therefore, there is always tranquility and it is a 
perfect place to enjoy the atmosphere of the 
fishing village 
Ine.
Moreover, there are many fishermen's boats moored in the area, so you may be able to see the fishermen heading for fishing from the window in the morning.
Also, the water quality is clear, so it's nice to see the fish swimming from the window on the second floor where you are staying.
It's a boathouse inn for rent, so it's good
 that you

 can spend time with your group alone

 .
The room is a space filled with the owner's commitment.
The baths and toilets are equipped with the latest
equipment , and the clean and fluffy beds, mirrors and dressing tables are all designed to make you feel very comfortable.
(By the way, the 
beds and sofas are made by 
Sealy,
 which has the largest share in the United States and has been selected as one of the world's top hotels
 . You can sleep soundly with the best mattress.)
Especially made from a female perspective . It is perfect for staying in a group of women.
You can enjoy a special view even in Ine Bay. Please spend a luxurious time.
You can park your car in the garage of the facility.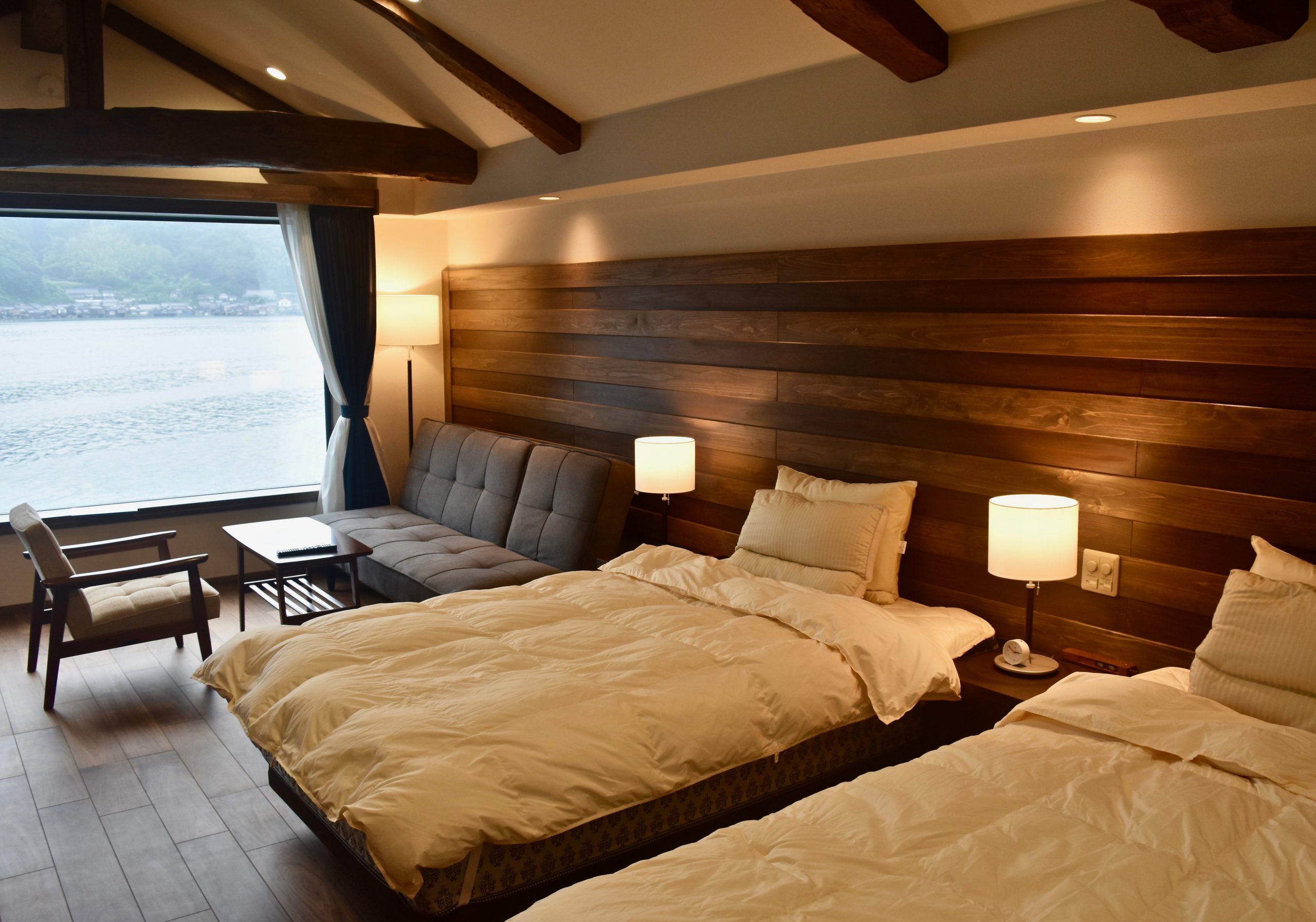 Street address

1005 Kameshima, Ine-cho, Yoza-gun, Kyoto Prefecture

phone number

0772-32-1122

Time to Funaya area

Inn in Funaya area

Fee

25,000 yen + tax (27,500 yen including tax) for 2 people 

13,750 yen (tax included) for




3 people 33,000 yen + tax (36,300 yen 

including tax) 13,100 yen (tax included) for




4 people 41,000 yen + tax (45,100 yen 

including tax) 11,275 yen

 per person (tax included)


* Children who do not need a bed are free of charge.

Meal

Only without meals

Number of rooms / capacity

1 room / 4 people

Amenities

Shampoo, soap, bath towel, face towel, Wi-Fi, coffee, microwave

Check-in / out

15:00 / 11:00
---
It's the perfect inn to relax while looking at the sea.
Please use all means.